Our Wines
In Order from lightest to heaviest: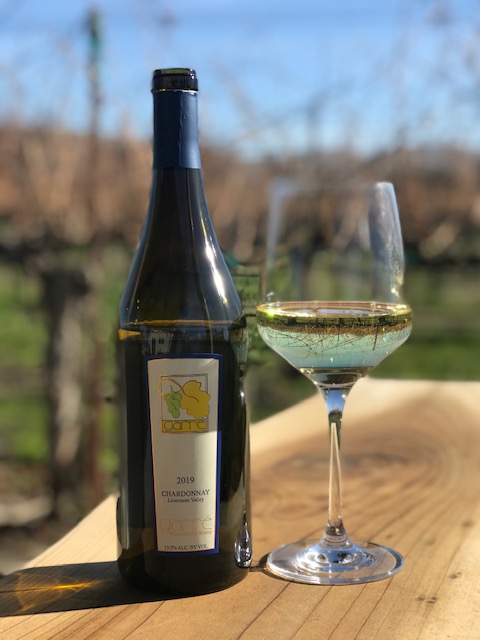 Sparkling White
This California sparkling is crisp with a touch of sweetness. The nose is rich with pear, green apple, honeysuckle, ground almond, and a hint of brioche. The mouth feel has well rounded bubbles with a long finish. It's a perfect wine for any and every celebration.
Chardonnay
Our estate-grown Chardonnay is one of Garré's best sellers! The nose is full of green apple, lemon zest, kiwi, pistachio with ground coriander rounding out the bouquet. The bright palate on this wine is ripe with apple, Meyer lemon, and pistachio. Light oak with a medium body with medium plus finish.
Sangiovese
Sangiovese has a long history of being widely planted in Italy. Our Livermore Valley grown Sangiovese is the newest addition to our family of wines carrying on the tradition of this European treasure. Fruit bursts out of the glass w/plum & pomegranate, whispers of dried basil, forest floor, soft finish w/ smooth tannins.
Cabernet Franc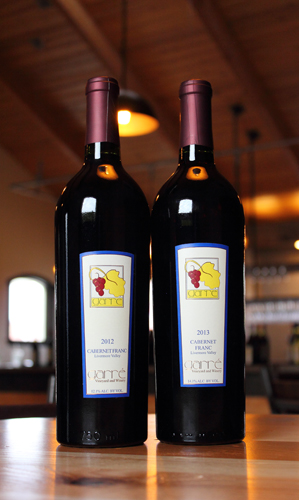 This Bordeaux varietal has what we like to say shows the Livermore sunshine. Dried cherries and cranberries explode out of the glass with a hint of Basil leaf and tobacco. With a medium body and medium plus finish.
Tempranillo
Locally grown Spanish varietal has found a new place to call home. Bursting with fruit aromas out of the glass including cherry pie, pomegranate, plum, river rock, and vanilla. Full bodied with a medium plus finish.
Primitivo
Our estate-grown Italian Zinfandel has a dark purple ink like color. It carries strong aromas of dark fruit jams, cherry, plum, stewed river fruit and brown spice. The palate flavors match the nose perfectly with a buttery mouthfeel.
Merlot
This wine is dark plum or garnet in color. It is fruit forward with aromas of black cherry, black plum and boysenberry. It exhibits other aromas of black pepper, vanilla and toast. On the palate, look for deep, intense dark fruit flavors with a moderate finish.
Cabernet Sauvignon
Our estate-grown Cabernet exhibits aromas of bing cherries and cassis with a hint of pepper and spice. Flavors of bell pepper, tea and dark fruit tickle your tongue. This medium-bodied, well-balanced wine is very food friendly.
Profound Secret
Made exclusively from estate-grown grapes, our signature Bordeaux blend features all five Bordeaux varietals: Cabernet Sauvignon, Cabernet Franc, Malbec, Merlot and Petit Verdot. All varietals were crushed and fermented together with additional Cabernet Franc added at bottling. The Cabernet Franc and Petite Verdot stand out in this vintage giving the scent of violets with plum, cherry and dry fruit characteristics. Flavors of spiced cherries, plum and cassis finish with a light earthiness and bright acidity.
Petite Sirah
Grown in the Livermore Valley since 1890, Petite Sirah is a local favorite and Durif fans are sure to enjoy this gem. Our estate-grown Petite Sirah is dark purple, and rich with aromas of cherry, pomegranate, fig, raisin, black current and vanilla with a touch of brown spice. Full bodied with a balanced medium plus finish.
Syrah
This Rhone varietal bursts with aromas of plums and boysenberries along with hints of tobacco, pepper, nutmeg and vanilla. Medium bodied with a long finish.
Red Velvet Port
Our late-harvest dessert wine is made from locally-grown Touriga National, traditional Port grape from Portugal.